There are many different types of member programs that you can choose from here at the Avila Beach Golf Resort. Whether you play two to three times a week, once a month, or year-round, we are sure to have the program that bests fits your needs.
The 18-hole championship golf course at the Avila Beach Golf Resort has one of the most unique course designs that you will ever find. The front nine is situated within oak-lined valleys requiring accuracy with every shot. The back nine transverses a tidal estuary and provides some of the most scenic tee shots on the Central Coast of California. Golfers of all abilities will enjoy the challenge of this scenic course.
AB Golf Club
The AB Club Card
$169 per year
Good for discounted green fees at Avila Beach Golf Resort & Blacklake Golf Resort … join and save! Program benefits include:
Over 20% off all 18-hole green fees
Discounted cart fees
One-hour earlier access to twilight and super twilight rates
Discounts on merchandise in the golf shop
Three complimentary rounds of golf (cart rental not included), which can be used at either location
Reservations up to 14 days in advance
Terms and Conditions: Discounts valid toward full senior rates. Discounts cannot be combined with any other offer, discount, promotion or special. Not valid with group play, leagues and/or tournaments except as specifically designated by management. Tee times subject to availability as determined by Blackdale Golf Resort. membership benefits and/or green, cart or range fees are subject to change without notice. Members must show membership card to receive benefits. Membership card and benefits are nontransferable and have not cash value. Members must abide by all golf course and program rules. Membership is valid 12 months from the date of purchase. Avila Beach and/or Blackdale Golf Resort reserves the right to revoke, revise or modify membership programs at any time without prior notice. In the event of a revocation of the membership, a pro rata refund will be available upon the request of the customer. This is an annual program, and membership have no guarantee of renewal on the same terms and conditions. Applicable sales taxes will be added to all fees.
Golf Pass
Avila Beach Golf Pass
| | |
| --- | --- |
| Membership Options | |
| Yearly Golf Pass (Single/Couple) | $3550/$5175 |
| AB Golf Club | $169 |
The Golf Pass Restrictions
Tee times can be made (15) days in advance.
20% off regularly priced merchandise in the pro shop. 10% off regularly priced golf equipment.
The card has no cash value.
The AB Golf Club expire one (1) year from date of purchase.
The card DOES NOT include golf cart rental.
This card is not valid with any other promotions, discounts or tournament play.
This card is not valid on select Holidays or Holiday weekends
This card cannot be combined with any other offer.
This card is NOT TRANSFERABLE.
For more information and applicable restrictions, please contact the Pro Shop at (805) 595-4000, ext. 1, or at info@avilabeachresort.com.
*Contact Pro Shop for details on Super Golf Pass!
| Private Golf Cart (TRAIL) Fee | |
| --- | --- |
| Yearly | $840 |
| Monthly | $80 |
| Daily | $10 |
The private golf cart fee is an annual fee based on the calendar year. Private golf cart owners are required to have a 2020 private cart contract and 2020 insurance coverage on file with the pro shop. To operate a golf cart on the property public or private the driver must have a valid driver's license and be 18 years or older. For more information, please contact the Pro Shop at (805) 595-4000, ext. 1, or at info@avilabeachresort.com.
Clubs
Ladies' Club
The Avila Beach Golf Resort Ladies Club plays every Tuesday morning beginning at 9 am. For membership information contact Julie Rodewald at cshank@calpoly.edu.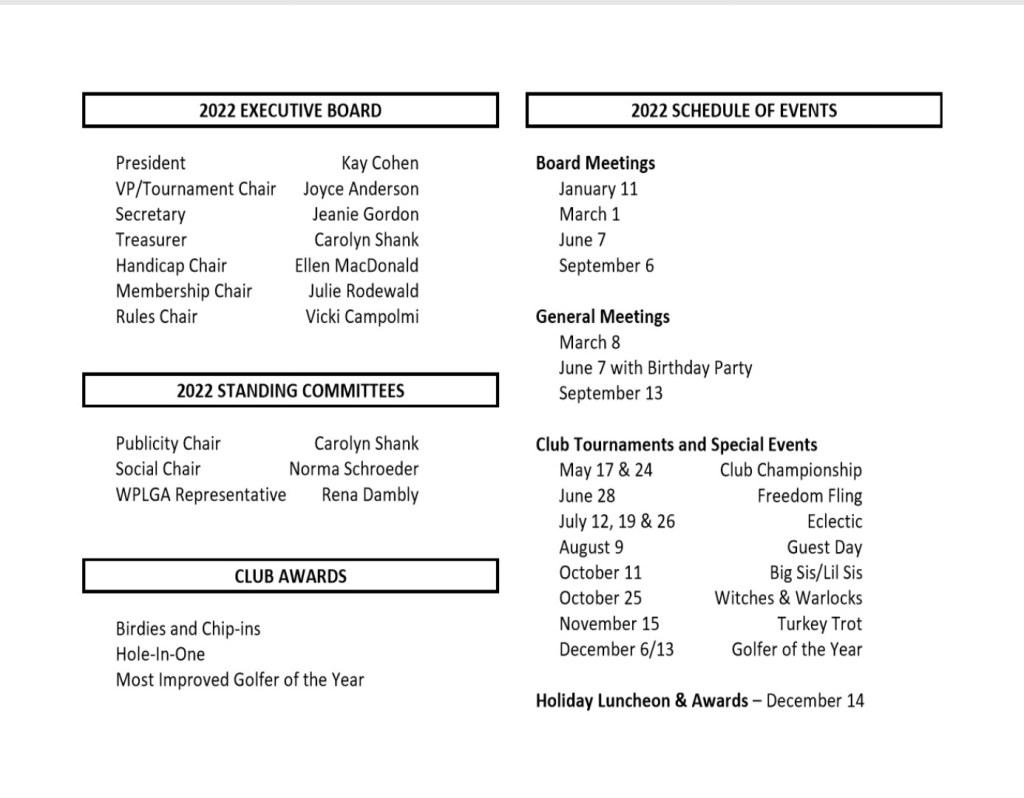 Men's Club
The Avila Beach Men's Club plays every Wednesday beginning at 9:00 am with a shotgun start off of the back 9-holes at the Avila Beach Golf Resort. The Men's Club also holds (12) Major Tournaments throughout the year such as the Club Championship in September. Some of the other well-attended tournament events during the year are the Octoberfest in October and the Turkey Shoot in mid-November. For more information on tournament dates, times, and the games chosen for each of the Men's Club Major Tournaments please contact the Pro Shop.
The signup sheet for all Wednesday and Major Tournaments is located in the Pro Shop. Players will need to sign up at least three days prior to the tournament date. Late sign-ups will be accommodated on a space-available basis. If you sign up and later determine you cannot play, notify the Pro Shop at once so that foursome pairings can be adjusted. The TOURNAMENT CHAIRMAN has the final say for all pairings and tee times.
If you have any inquiries about joining the Men's Club or tournaments, please contact the Pro Shop at (805) 595-4000, ext. 1, or email at info@avilabeachresort.com.
Membership Request