The Avila Beach Golf Resort has been a destination for mainstream entertainment for over 20 years. The Resort will host a yearly concert series from May-October with a variety of entertainment to fit a wide age demographic. Our Concerts at the Cove provides the audience quality entertainment with views overlooking beautiful Avila Beach; the most scenic view to watch a concert on the Central Coast!
Our venue, Paradise Cove, will provide our guests with a lasting memory of top-of-the-line entertainment, a comfortable, intimate venue, local fun vendors with creative merchandise, a great selection of beer, wine, and specialty drinks, and fresh local cuisine from Mulligan's Bar and Grill.
To view upcoming shows, purchase tickets, and get general information please visit: events.avilabeachresort.com.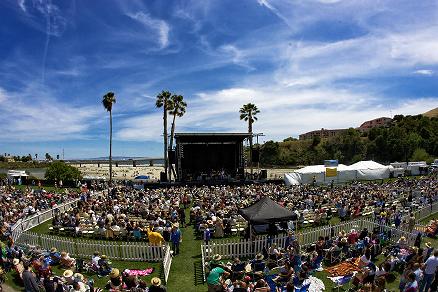 Frequently Asked Questions
Rules and Regulations
---
The "No Way … Don't Even Think About It … Absolutely Not" List:
Outside food or beverage
Sealed plastic water bottles
Backpacks or purses
Nothing in a chair that has an attached ice chest or bag
Drugs and drug paraphernalia
Glass
Weapons/knives
Professional level cameras
Video cameras
Refunds or exchanges
Pets
Ice chests/coolers
Umbrellas
High-back chairs
Lawn chairs
Camelbak
Tents
Flyers or posters
Wagons
The "Yes … Is OK" List:
Clear bags only that do not exceed 12"wx12"hx12"d. one-gallon clear plastic freezer bag (Ziplock or smaller) or a small clutch bag approximately the size of a hand, with our without a handle or strap. This can be carried separately or within a plastic bag. All other bags are prohibited within the venue.
Empty Re-Usable Water Bottles
Blankets
Low back chairs
Towels
Cell phones
Children
Strollers subject to search
Diaper bags subject to search
Personal non-professional level cameras
Cigarettes (in designated smoking areas)